Full-Scale Tenant Improvements in Salinas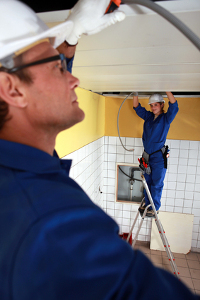 If your next project involves the need for Salinas tenant improvements then you need to know you can rely on the 3G Electric name to get it done. These tasks are made to the interior of a commercial or industrial property by the owner in order to accommodate the needs or special requests of a tenant. This can include but not be limited to outlets, panel upgrades, ceiling lights and more.
This may also include that things be brought up to certain codes based upon the type of business such as fire protection and security. The expenses involved may be taken care of by the lessor, the lessee or a combination of both. That is something that can be worked out between the two parties involved.
What does matter is that you hire the right Salinas electrician to take care of important wiring work required for the renovation. And this expert needs to be trained, experienced and up to date with compliance requirements by local, state and federal agencies for this type of commercial or industrial work. Which is why the 3G Electric team is the one to make it happen.
Electrical Contracting Services
What you really need is someone to work with who understands what needs to be done in order to get the job done. We have a hands on, working knowledge of what type of electrical contracting work should be done for the type of changes being made. You're not just getting a workhorse you are getting a team of tenant improvement specialists who can offer guidance and offer suggestions.
When it comes to work as important as this you need to know you have someone not just working for you to complete the project but on your side to make sense of it all. At 3G Electric that is what we do. We take great pride in offering the best in quality workmanship as well as customer care. Set up an appointment for your free estimate and find out what we can do for you.
Tenant Improvements in Monterey-Salinas
If you have a project that needs to be taken care of or is about to be coming up then there is no time like the present to get started. Contact us right now so we can get ahead of the game. Every minute you waste not taking care of this work is another minute you can't earn rent or may lose your potential renter to another commercial space.
What can we do for you? Let us show you firsthand. We look forward to having the chance to work with you for your Salinas tenant improvements.
Our Salinas Tenant Improvement Contractors Provide:
Commercial tenant improvements
Electrical improvements
Lighting repairs
Electrical repairs
Electrical contractor services
Tenant improvement construction
Electrician services
Outlet repairs
Electrical contracting
Electrical repair service
Commercial electrician services
Electrical wiring
Recent Articles
What is Gonzales Tenant Improvement?

A more common job that we have been taking care of here at 3G Electric is Gonzales tenant improvement. So what is this exactly? Tenant improvement is usually the type of work that needs to be done before a tenant can use a rented space.Normally this is for a commercial space in which the client…

Read More

If you are looking for a Salinas tenant improvements expert, then please call 831.674.5107 or complete our online request form.