Comprehensive Panel Upgrades in Salinas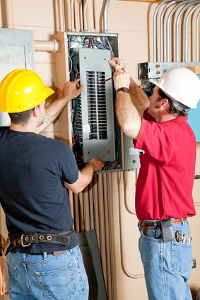 Opting for a professional Salinas panel upgrade is a smart move to make if your home or business may be a bit behind the times. In fact in some cases it may be mandatory in order to comply with current building codes. With the average lifespan of a home now greater than 35 years and today's technology advancing at the speed of light it is very likely you already need or will soon need to upgrade your panel.
Today's gadgets and appliances easily overload the electrical systems present in many of today's older homes. Everyone loves the look of an older home but the problem comes when trying to pair it with today's technology. Yet all of this can easily be avoided by letting our electrical contractors here at 3G Electric take care of your electrical service upgrade.
Your electrical panel is what helps you get the power you need to all of those beloved gadgets and appliances in your home. Obviously, the power is supplied from your utility company through this panel where it branches out to the places where it is needed throughout your Monterey-Salinas home. However older systems are not equipped to handle too much power which can cause you to have to deal with tripped breakers all of the time. 
Electric Service Upgrades
In order to stop this from happening you need a professional Salinas panel upgrade. This not only helps supply you with the energy you need it helps make your home a safer place for you and your family. This may also include updating outlets in order to make them compliant with today's 3 prong system.
You are probably familiar with your electrical panel – especially if you have had to flip the breaker switches back into place a great deal. This is the grey metal box that is usually mounted on the wall of your home in an easy to access place like your laundry room, closet, basement, utility closet or someplace similar. In some cases it is outside but our experts are trained to know how to find this unit.
Electrical Panel Upgrades in Salinas
You may already have noticed some signs of needing an upgrade if you notice problems like:
Flickering Lights
Melted electrical wires
The need to turn off one appliance to use another
Crackling sounds from the panel box
Your home still uses a 60 amp system
Just to name a few
So stop settling for less than your home could be. Let our Salinas electricians take care of your electrical panel upgrade and improve the quality of living in your current home.
Our Salinas Panel Upgrade Technicians Provide:
Electrical panel upgrades
Electrical panel replacement
Residential electrical panels
Electrical wiring
House electrical panels
Electric service upgrade
Commercial electrical panels
Electric panels
Electrical supply services
Electrical contractor services
Electric service panels
Electrician services
Recent Articles
The Benefits of Monterey Panel Upgrades

If you have considered a Monterey panel upgrade for your home you may already be familiar with what it is and what the benefits are. There are so many beautiful and historic homes in the area and owning one is quite an honor. The problem is that with the decision to own an older home…

Read More

If you are looking for a panel upgrade for your Salinas home or business, then please call 831.674.5107 or complete our online request form.