Exceptional Salinas Lighting Repairs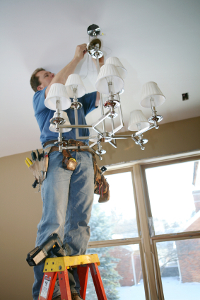 If you are in need of professional Salinas lighting repairs then you have come to the right place. At 3G Electric we are the leading experts in this type of service and expertise. Anytime you have a repair problem related to electrical wiring you need to take this matter seriously. This means hiring only a trained and experienced professional to take care of the job.
It also means not attempting to rectify the situation yourself. Trying to tamper with electrical fixtures is something that could end up causing a great deal of damage, lead to fires and potentially cause death. So at 3G Electric we say, leave the dangerous work to us. We have the knowledge, know-how, training, experience and tools to get the job done correctly and safely.
In fact our motto just happens to be "Safety and Quality First!" Too many less-than-professional companies cut corners and take risks to save time and money yet still charge you full price. Don't work with someone willing to take a gamble with their safety and yours just to focus on quantity of jobs over quality.
Light Fixture Repair Service
When you know you are in need of this type of repair work then only the best will do. Why settle for anything less than the finest lighting repair experts in the Monterey-Salinas area? This is the best way to make sure you have the work you need completed promptly, professionally and safely.
There are a variety of tasks we take care of that fall under this type of service. This includes things like:
Exterior lighting
Landscape lights
Interior lights for your home
Interior and display lights for your business
Plus so much more
So if you know you need this type of work, give us a call today. If you even suspect you require this type of work then contact us so we can inspect your potential problem. When it comes to electrical wiring it is better to be safe than sorry. Call today for your Salinas lighting repairs.
Lighting Repairs in Monterey-Salinas
There are many indications you may need repairs for your lighting as well as many things that can cause something to wrong with lights. Flickering, smoldering and shorting out are some common complaints. And some of the causes can be faulty wiring, poor installation or just ageing.
Whatever the problem may be the team here at 3G Electric can take care of that for you. Don't put off getting this important work done; contact us now and let us show you firsthand what makes us the best Salinas electricians around.
Our Salinas Lighting Repair Technicians Provide:
Light fixture repair
Ceiling lights
Track lighting
Pendant lighting repair
Lighting fixtures
Recessed lighting
Bathroom lights
Ceiling light fixtures
Lighting repairs
Contractor lighting
Electrical contractor repairs
Electrical repairs
Recent Articles
Electrical Safety: Signs You Need to Rewiring Your Salinas Home

Beyond any doubt, your residential electrical system is the most important utility in your Salinas home. It is hard to think of a single task that is not made easier by electricity. In fact, most of the things we do on a daily basis would not even be possible without electricity. Because electricity is so…

Read More

What is Gonzales Tenant Improvement?

A more common job that we have been taking care of here at 3G Electric is Gonzales tenant improvement. So what is this exactly? Tenant improvement is usually the type of work that needs to be done before a tenant can use a rented space.Normally this is for a commercial space in which the client…

Read More

If you are looking for a Salinas lighting repair service, then please call 831.674.5107 or complete our online request form.