Professional Electrician in Salinas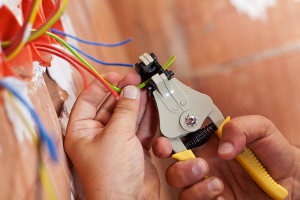 For anyone who has ever searched for a professional electrician in Salinas before the good news is that you now know the answer. At 3G Electric we are the trusted team that can take care of this type of work for your residential and commercial space. Our motto is "Safety and Quality First!" which is why we think you should leave the dangerous work to us.
Taking care of electrical work is nothing to take lightly. There is a reason there is so much training involved in order to get to be a master electrician. It is about a great deal more than watching a few videos online. Yet every day people take chances with their wiring, their home or commercial building and even their safety and lives when all they have to do is hire our team of experts.
At 3G Electric we promise you the best in products, workmanship, customer care and pricing. We pride ourselves on great customer service, professional work, our professional team and our code compliant electrical work. So contact us today so we can get started and let's begin with your free estimate.
Salinas Electrical Services
To know Salinas is to love it; just ask John Steinbeck. The author who was from here also used it as the backdrop for several of his books. At 3G Electric we also can't help but really enjoy it here and appreciate every chance we get to take care of a job here. While the motto "Rich in Land. Rich in Values" says a lot for the area so does the nickname, "The Salad Bowl of the World."
It is so rich in history here which is reflected in many of the well preserved homes here. However, older homes tend to come with a lot of electrical problems including the need for panel upgrades. Let us help you preserve the historical homes here while practicing safety with updated electrical wiring. Contact us to find out more about how we can take care of your Salinas electrical services and bring your historic home to modern standards.
Electrical Contractor in Salinas
We can take care of even your emergency repairs. We are available for you 24 hours a day and 7 days a week. We realize you don't always get to choose when your need for electrical repairs will arise but we still want to be able to be there for you. There is no reason your home or business should have to suffer just because of an electrical problem so call on us for all of your professional Salinas electrician needs.
What Our Salinas Customers Are Saying About Us
3G Electric is rated 5 /5 based on these 2 happy customer reviews
---
3G Electric came to my house to install recessed lighting they were very professional neat and clean work Thanks 3G Electric

---



Excellent customer service fast and friendly

---



Recent Articles
What is Gonzales Tenant Improvement?

A more common job that we have been taking care of here at 3G Electric is Gonzales tenant improvement. So what is this exactly? Tenant improvement is usually the type of work that needs to be done before a tenant can use a rented space.Normally this is for a commercial space in which the client…

Read More

The Benefits of Monterey Panel Upgrades

If you have considered a Monterey panel upgrade for your home you may already be familiar with what it is and what the benefits are. There are so many beautiful and historic homes in the area and owning one is quite an honor. The problem is that with the decision to own an older home…

Read More

If you are looking for a Salinas electrician, please call 3G Electric at 831.674.5107 or complete our online request form.