Exceptional Salinas Commercial Electricians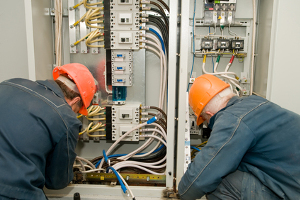 Looking for professional Salinas commercial electricians? Then you have come to the right place because 3G Electric just happens to be the ideal local team to get the job done. Commercial electricians install and maintain the electrical devices in commercial buildings and complexes. This means we very often have to be available for service calls including emergency service.
Our service crew has a variety of responsibilities to take care of for commercial clients. This may include planning and diagramming electrical systems including conduits or tubing or piping. This of course also means understanding and withholding to electrical codes. You can rest assured that at 3G Electric we have the knowledge, training and experience of these regulations and stay abreast of any new ones or changes that comes about.
We also may take care of wiring instruments that control power, lighting, refrigeration, heating and cooling for a commercial space. We will work with you to find out what it is you need according to the type of business you have. When you work with 3G Electric you are also getting advice and guidance from experts who know and comprehend the industry.
Industrial Electrical Contractors
In addition to preliminary building work, our team of Salinas commercial electricians may also be called out for repairs and troubleshooting. We are well aware of the importance of keeping your business running smoothly. In addition to making sure revenue continues to generate you have to be sure your employees and customers' safety is not compromised.
Ready to get started? Don't keep putting off taking advantage of the important services our industrial electrical contractors can provide for you. We want you and your business to be successful and it starts with having the right building set up right down to the wiring.
Commercial Electricians in Salinas
If you are in the market for a professional to get your electrical work in order then you have come to the right place. At we focus on sticking to our motto of "Safety and Quality First!" which is extremely important when it comes to electrical wiring. Too often the job looks to be done correctly because everything works.
However, later lights may not work, wires can melt or fires can break out all because the work was rushed or done incorrectly. So let us help ensure that never happens. Our Salinas commercial electricians look forward to working with you for your electrical service needs in order to make your commercial space a long lasting success.
Our Salinas Commercial Electricians Provide:
Commercial electrical wiring
Industrial electric services
Electrical repair service
Electrical services
Industrial electrician services
Commercial lighting repair
Industrial panel upgrades
Electric panel upgrades
Commercial electric services
Commercial electric contractor repair
Industrial electrical contractors
Commercial tenant improvements
Recent Articles
If you are looking for Salinas commercial electricians, then please call 831.674.5107 or complete our online request form.