Reliable Outlet Repairs in Salinas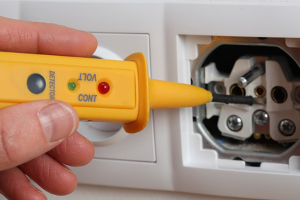 Considering professional Salinas outlet repairs? Then you are making a smart choice. Too many people just work around it and use another outlet. The problem is that you just may be inviting trouble by doing this.
Having an improperly working outlet not only is a hassle it could be dangerous or even fatal. You certainly do not want one of your other family members or an employee around a broken electrical outlet. This can truly be an accident waiting to happen. The good news is that our crew here at 3G Electric is just the team to take care of that for you.
Finding the right electrical repair service can seem tiring, annoying and overwhelming. While most technicians do not keep their time commitments and don't bother to show up the other concern is those who lack the interest or ability to demonstrate work that shows concern for anyone's safety. But if you have a home or business in the Monterey-Salinas area you don't have to worry any longer – you have found the 3G Electric team.
GFI Electrical Outlet Repair
Not only can we take care of professional Salinas outlet repairs we can also take out the old and replace with new ones with added safety features such as GFI electrical outlets. Whatever the case may be we can take care of it for you and help improve the safety of your home or business. Let us help you to protect the safety and dignity of the structure as well as the people inside.
This is not the type of work you want to entrust to someone with less than expert credentials. They may not have proper training or may be the type to cut corners to save time or money. When it comes to any service related to electrical wiring cutting corners is never an option. Of course the same applies for DIY; watching videos on YouTube has never made anyone a qualified master electrician.
Outlet Repair Service in Monterey-Salinas 
If you want to take the best care of your home as possible then you need to let professional experts get the job done. This is the best way to ensure the safety now and in the future of everyone involved. Too often, work that seems acceptable ends up causing damage down the road. The last thing you want is to try to fix an electrical issue on your own only to end up causing a fire later because of it.
Let our Salinas electricians here at 3G Electric take care of this type of work for you. For all of your outlet repairs and related services, give us a call.
Our Salinas Outlet Repair Experts Provide:
GFI electrical outlets
Electrical repairs
Electrical outlet repair
Emergency electricians
Power outlets
Electrical repair service
Outlet repairs
Electrical contractor services
GFCI outlets
Electrician services
Electric repair service
Electrical services
Recent Articles
What is Gonzales Tenant Improvement?

A more common job that we have been taking care of here at 3G Electric is Gonzales tenant improvement. So what is this exactly? Tenant improvement is usually the type of work that needs to be done before a tenant can use a rented space.Normally this is for a commercial space in which the client…

Read More

Options in Energy Efficient, Low Voltage Lighting For Your Greenfield, CA Home

Low Voltage Lighting in your Greenfield, California home plays an important role in your landscape and interior lighting, but it also goes a long way towards helping you save on your energy bills. They give you great energy efficiency while provide just the light you need in a given area of your home. Sometimes,…

Read More

If you are looking for an outlet repair service in Salinas, then please call 831.674.5107 or complete our online request form.