Electrical Wiring for Salinas New Construction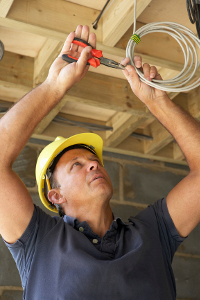 Part of taking care of the Salinas electrical wiring for your new construction is finding the right contractor for the job. You need to be able to work with someone who is up to date on current codes and guidelines for industry regulations. Too many people take a gamble and hire someone who is not qualified to take on this type of work so the work they do carry out does not meet code restrictions.
This not only wastes valuable time; it can end up costing you money in fines and penalties. So it is important to make sure you choose someone to work with who is qualified to get the job done. At 3G Electric we are above and beyond when it comes to meeting the necessary criteria to get the job done.
Our Salinas electricians can work with you to make sure the projects you want to take on will be in full compliance. From there we can be the ones to take care of your electrical wiring so that it meets mandatory regulations. Don't take risks when it comes to your electrical work. Avoid fines and prevent the possibility of fires by working with the trusted pros at 3G Electric.
New Construction Wiring
Your basic needs for new construction electrical wiring work includes standard "code" outlets and lights. How much of those is what makes the difference. Plus, you should consider any possible optional additions before moving forward with your home. Many people opt for extras like electrical for wiring in a home theater room.
That is because it is better to have them and not need them then try to add them once the building is complete. If nothing else, trying to resell a home later that already has this extra wiring will be easier. At 3G Electric we can also advise you on the possible extras you may want to include as part of your wiring. And one thing any homeowner who has had this problem before will tell you – always add more extra outlets because there will still somehow never be enough. 
Electrical Wiring Service in Salinas
Ready to get started? Then contact us to set up your free estimate. We look forward to meeting with you and finding out more about the project you are considering taking on. We want to be able to help you make smart decisions and have the home you have always dreamed of.
And this does include having all of the necessary electrical work in place as well. Call today to find out how we can help you with your Salinas electrical wiring services for your new construction. Don't delay, call today!
Our Salinas New Construction Electricians Provide:
New construction wiring
Residential electrical wiring
Commercial electrical wiring
Electrical contractor services
House electrical wiring
Electrical services
Household electrical wiring
Home electrical wiring
New construction electrical
New construction electrical wiring
Electric service
Construction electrician services
Recent Articles
Options in Energy Efficient, Low Voltage Lighting For Your Greenfield, CA Home

Low Voltage Lighting in your Greenfield, California home plays an important role in your landscape and interior lighting, but it also goes a long way towards helping you save on your energy bills. They give you great energy efficiency while provide just the light you need in a given area of your home. Sometimes,…

Read More

The Benefits of Monterey Panel Upgrades

If you have considered a Monterey panel upgrade for your home you may already be familiar with what it is and what the benefits are. There are so many beautiful and historic homes in the area and owning one is quite an honor. The problem is that with the decision to own an older home…

Read More

If you are looking for new construction electrical wiring in the Monterey-Salinas area, then please call 831.674.5107 or complete our online request form.