Efficient Salinas Ceiling Fan Installation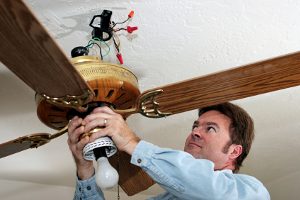 Taking care of professional Salinas ceiling fan installation is something that must be left to trusted experts. The task is a challenging one and is much better carried out by someone with training, experience and even the right tools and equipment to get the job done. At 3G Electric we are just the crew to take that and cross it off of your to-do list.
You need to have one or more functional ceiling fans in your home or commercial rental property to help with temperature control and air circulation. You may even opt to have one or more on your porch to help with air flow during warm summer months. Or you may have an old, broken or outdated one and want to replace it with a newer model.
Whatever the case may be our Salinas electricians can take care of that for you. Never take chances when it comes to taking care of electrical wiring jobs for your home. For one thing you want to make sure the work is carried out correctly so the fan works properly. The main concern though is making sure you do not end up causing a short, spark or fire due to faulty electrical work.
Replacing Ceiling Fans
At 3G Electric we are the team your can trust for professional Salinas ceiling fan installation. Part of maintaining your home all year long is about making timely energy improvements. And one way to reduce your air conditioning costs in the summer and circulate heat in the winter is by using a quality ceiling fan.
We are here to take care of that for you. We will take the necessary precautions needed to ensure your fan is installed correctly. In addition to saving you money on your monthly utility bills, installing a ceiling fan can also add to your interior décor. So choose one you like that works with your taste and fits the style of the room. This can also act as an additional light source for a room that could use a little more overhead lighting.
Ceiling Fan Installers in Salinas
Ready to get started? Then don't put off until tomorrow what we can take care of for you today. You are going to love the added benefits of having a new ceiling fan in your home just make sure you can enjoy it by letting a pro do the installation work.
If you have questions about choosing the right fan before having it installed we can help with that too. Call today for a free estimate and let us show you how a pro takes care of ceiling fan installations in Monterey-Salinas.
Our Salinas Ceiling Fan Installers Provide:
Ceiling fan installaion
Ceiling fan repair
Electrician services
Ceiling fan wiring
Ceiling fans
Fan Installation
Replace ceiling fan
Electrical contractor services
Ceiling fan installation wiring
Ceiling fan replacement
Electrical services
Ceiling fan light repair
Recent Articles
If you are looking for a Salinas ceiling fan installation service, then please call 831.674.5107 or complete our online request form.